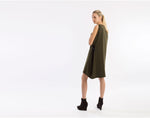 Premiere Vision (PV), the fashion world's leader in emerging trends, foretold Fall/Winter '16 to be a season inspiring structure. "Pieces borrowed from a men's wardrobe infiltrate women's wardrobes: suitings and colour wovens with woollen handles, technical-fibre blends, clothing and shapes coming from the sports universe, for silhouettes that overturn feminine fashion codes, and introduce a strong gust of modernity."  
purplemaroon is on the modern edge of these forecasts. In our upcoming Fall/Winter collection 2016, our separates effortlessly intermix offering structure yet femininity through previously assumed masculine shapes.
 purplemaroon's A Line Tunic Dress in navy stripe. Wear alone or over jeans. 
purplemaroon's Oversized shirt in Japanese cotton.  It is better than your boyfriend's. 
The textiles in our collection are blends that perform no matter your occasion, even straight from the suitcase.  Our microfibers are wrinkle resistant, machine washable and a perfect weight for ease of wear.  Our new textile of paper denim is an exciting addition of a 100% organic fiber that is machine washable and gives more character with time. The micro-model knits are baby soft and will become a favorite piece that will be reached for again and again.

purplemaroon's Asymmetric Tie Dress in deep olive.

purplemaroon's Car Coat in paper denim. 
purplemaroon's Slit Tie Dress in paper denim. Perfect for fall.  
The purplemaroon A|W16 collection for us is a season which creatively collaborates opposites.  This collection reflects purplemaroon's DNA to the core: minimalism with an urban vibe.
Premiere Vision's Autumn Winter 16/17 inspiration board.
purplemaroon's A Line Tunic Dress in watercolor print. 
purplemaroon continues to showcase forward modern style. We are proud to bring you the best of Premiere Vision's forecast of great design.