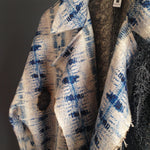 DIFFA Designs 2016 Event SHINE & purplemaroon's piece: "Flicker of Hope"
purplemaroon is honored to be a part of DIFFA Designs curated collection for the 2016 SHINE event, October 12th at the NWBLK gallery. 
Josephine Tchang, lead designer of purplemaroon, created a piece called Flicker of Hope for this year's event.
More about Flicker of Hope by Josephine:
"This wearable piece of art incorporates handmade burns which were created by red-hot coals.  The burns leave behind irregular holes altering the garment's structure. The shadows of the flames are present and leave a scarring coloration on the garment, which symbolizes how HIV/AIDs has altered so many lives.  This knee length coat is constructed with a durable canvas shell representing a layer of protection. The fabric is by
Stark Fabric
from
Shears & Window
. Its shimmery lining is an intricate, open-pattern fabric from
Rudolph
Shown at
Sloan Miyasato
. This fabric creates the illusion of movement, hope, and the celebration of life itself, allowing this piece to SHINE."
This one-of-a-kind piece of wearable art is available for purchase through the DIFFA Designs event silent auction. For tickets click here. All proceeds support the UCSF Positive Health Program and DIFFA (Design Industries Foundation Fighting AIDS) in their care for those with HIV/AIDs.