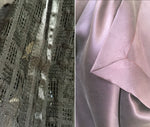 A finished purplemaroon garment is the essence of luxury.  We put so much into each element of our garments - design, fabric, fit, and also detail - both outside and in.  
Take a peek at the craftsmanship and details behind our seams.
Our garments are just as beautifully finished on the inside as they are on the outside. In some cases, the finishing is so appealing the garment can be worn inside out for a second playful look.
We believe in giving you the highest quality of design, fabric, and craftsmanship. Josephine is a very hands-on designer.  She focuses on each element and works with the team to solve any technical challenge along the way.
purplemaroon clothes are timeless, enabling them to be a favorite piece for many years to come. We want to create fashion that will endure. And we take great pride that we can say 'USA Made'.   
purplemaroon - beautiful garments on the inside and out.  Enjoy the feel, look, and luxury behind our seams.